(5-6-2018)
Yang di-Pertuan Agong Sultan Muhammad V has given his consent to the appointment of Tommy Thomas as the new attorney-general.Comptroller of the Royal Household Wan Ahmad Dahlan Abdul Aziz said His Majesty had, on the advice of Prime Minister Dr Mahathir Mohamad, given his consent to the appointment according to Article 145 (1) of the Federal Constitution.

"The Yang di-Pertuan Agong also called on all Malaysians to accept that the appointment of the attorney-general should not create religious or racial conflict as every Malaysian should be fairly treated regardless of race and religion," he said.In a statement dated June 4 and issued by Istana Negara to Bernama early this morning, Wan Ahmad Dahlan said the appointment would continue to preserve the special rights and privileges of the Malays and Bumiputeras, as well as the status of Islam as the the federal religion."After taking into account the opinions of the Malay Rulers on (i) the appointment of attorney-general, (ii) the rights of Bumiputeras and (iii) the roles of the Council of Rulers as stated under Article 153 of the Federal Constitution, the Yang di-Pertuan Agong also consented to Apandi Ali's termination of service as attorney-general by the federal government," he said.Wan Ahmad Dahlan also said that Sultan Muhammad V had expressed his disappointment and worry about inaccurate and negative media reports of late which could threaten peace and harmony in the country.

"His Majesty said that he has an obligation to uphold the Federal Constitution and preserve the special rights of the Malays and Bumiputeras, as well as to protect Islam," he added.Dr Mahathir Mohamad had recently proposed to nominate renowned lawyer Thomas as attorney-general to replace Apandi.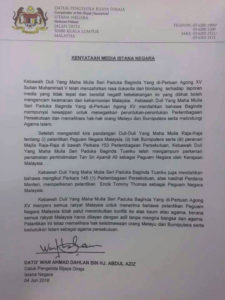 Yang di-Pertuan Agong Sultan Muhammad V telah memperkenankan pelantikan Tommy Thomas sebagai Peguam Negara.Datuk Pengelola Bijaya Diraja Istana Negara Datuk Wan Ahmad Dahlan Abdul Aziz berkata atas nasihat Perdana Menteri Tun Dr Mahathir Mohamad, Agong telah menitahkan perkara itu mengikut Perkara 145 (1) Perlembagaan Persekutuan."Ke bawah Duli Yang Maha Mulia Seri Paduka Baginda Yang di-Pertuan Agong XV menyeru semua rakyat Malaysia untuk menerima bahawa pelantikan Peguam Negara Malaysia tidak patut menimbulkan konflik ke atas kaum atau agama, kerana semua rakyat Malaysia harus dilayan dengan adil tanpa mengira bangsa dan agama," katanya.

Dalam kenyataan bertarikh 4 Jun yang dihantar Istana Negara kepada Bernama awal pagi ini, Wan Ahmad Dahlan berkata Agong bertitah bahawa pelantikan tersebut tetap memelihara hak keistimewaan orang Melayu dan bumiputera serta kedudukan Islam sebagai agama Persekutuan."Setelah mengambil kira pandangan Duli-Duli Yang Maha Mulia Raja-Raja tentang pelantikan (i) Peguam Negara Malaysia, (ii) hak Bumiputera serta (iii) peranan Majlis Raja-Raja di bawah Perkara 153 Perlembagaan Persekutuan, Kebawah Duli Yang Maha Mulia Seri Paduka Baginda Tuanku juga memperkenan penamatan perkhidmatan Tan Sri Mohamad Apandi Ali sebagai Peguam Negara oleh kerajaan Malaysia," katanya.Wan Ahmad Dahlan berkata Yang di-Pertuan Agong turut menzahirkan rasa dukacita dan bimbang terhadap laporan media yang tidak tepat dan bersifat negatif kebelakangan ini, yang dilihat boleh mengancam keamanan dan keharmonian Malaysia."Seri Paduka Baginda menitahkan bahawa baginda mempunyai kewajipan untuk menegakkan peruntukan-peruntukan Perlembagaan Persekutuan dan memelihara hak-hak orang Melayu dan Bumiputera serta melindungi agama Islam," katanya.

Baru-baru ini, Dr Mahathir telah mencadangkan peguam terkemuka Tommy Thomas sebagai calon Peguam Negara bagi menggantikan Mohamad Apandi, kepada Yang di-Pertuan Agong.