(4-6-2018)
IN rural Sungai Acheh in Nibong Tebal, Penang, reconciliation in a new Malaysia began as some 30 non-Muslims learnt the meaning of Ramadan.They had never been inside a mosque, let alone joined Muslims to break their fast in one. They did not know that they could, until yesterday evening.Youth group Penggerak Komuniti Muda (Peka) in Penang had organised a gotong-royong and buka puasa at Masjid Jamek Sungai Acheh in Nibong Tebal.Some of its Chinese members helped locals cook "bubur lambuk" at the mosque in the afternoon and went into Kg Sungai Chenaam with their Muslim friends to distribute the porridge door-to-door.

"I had never helped people cook in a mosque before. It was a special experience," Tunku Abdul Rahman College student Chuah Tiong Yee, 21, a Peka member said.The quantity surveying student said his takeaway from the event was that he learnt why Muslims distributed bubur lambuk (rice porridge) during Ramadan."Giving the porridge means sharing good will, extending well wishes…it is like why we Chinese give mandarin oranges during Chinese New Year. I thought 'wow'," he said.Another Peka member, engineer Ho Man Yee, 27, said she felt happy helping out at the mosque and learning about the traditions of Ramadan."It was my first time breaking fast with Muslims in a mosque. I used to think I couldn't do this in the mosque as a non-Muslim."The local community is also very friendly and welcoming. We all worked and helped each other prepare for buka puasa without caring whether we were Muslim or not," she said.For buka puasa in the evening, the mosque prepared a "nasi talam" style meal, with rice, chicken, mutton and watermelon served in large trays that up to four people will share.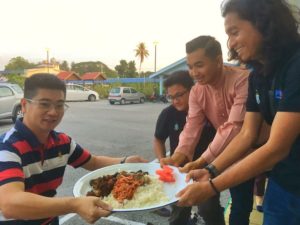 By then, 27 northern region Junior Chamber International (JCI) Malaysia chapter leaders invited by Peka had arrived to join the locals to break the fast. They helped carry the large trays of food to the dining area.Then, Sungai Acheh locals and guests – who also included Permatang Pauh MP Nurul Izzah Anwar, Batu Kawan MP P. Kasthuriraani, Bukit Mertajam MP Steven Sim, Sungai Acheh assemblyman Zulkifli Ibrahim and Jawi rep Jason H'ng – sat on the floor in small mixed groups and ate together from the trays. JCI Malaysia national executive vice-president Chew Hooi Mei said the chapter presidents and top office bearers had a lot of fun at the eye-opening event, as it was the first time for any of them to enter a mosque to break fast with Muslims. "Such invitations are very rare. This is such a great opportunity to understand the Malay and Muslim culture during Ramadan," she told The Malaysian Insight. Chew said she hoped this would open new opportunities for JCI, whose members are youths aged 18 to 40, and Peka to work together in multiracial community programmes.

Peka's Adam Adli Abdul Halim said this Ramadan in a new Malaysia was a good time for reconciliation, and for Malays to give their non-Malay and non-Muslim friends a chance to experience something different."Someone had said somewhere that the leaders are fine but the people are disunited. In the past, there was little chance to get the people to come together."Today (yesterday), we are starting from this small community in Sungai Acheh. We should encourage this culture. Even the Quran tells us to make friends and know each other," he said.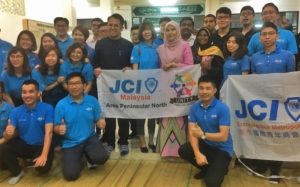 It was also a first time for Peka to organise a multiracial buka puasa event in a mosque.Locals in the predominantly Malay Sungai Acheh were amused that the non-Muslim youths had never been to a mosque and were unused to eating with their hands, but largely enjoyed the interaction."I want to thank them for coming to join us and helping out," said Kampung Sungai Chenaam village security and development chairman Hamidah Sahad, 51, who had taken the Peka youths into her village to distribute porridge.Norizan Ishak, 53, who also helped the youths in their door-to-door visits, praised them for making the effort to promote better interracial ties.

In praising the event, Nurul Izzah said mosques were not only houses of worship, but also institutions that built communities.Sim said such events would allow people of different races and faiths to interact, and take part in each others' cultures actively instead of being mere observers.The DAP MP said the victory of Pakatan Harapan in the 14th general election proved that Malaysians were no longer divided by race and religion."The first step now is for us to interact personally, like how this buka puasa event has brought Malaysians together, with non-Muslims learning and experiencing what Ramadan means to Muslims, and seeing what a mosque looks like."At the end of the event, nobody became less Malay, less Chinese, less Indian…we all shared a part of each other, including our saliva," he joked, referring to the dining style."This is what a new Malaysian society should be like." –  June 3, 2018.